COUNTER BALANCE FB 1.8 Ton - 3.5 Ton
*Selected models in process of being phased out.
Fully hydraulic orbitrol power steering which reduces overall maintenance costs.

The efficient recovery of breaking, accelerator-off and switchback regeneration (the substantially reduced switchback time and distance will reduce operator fatigue).

New Type of AC Motor (AC motor is used for both the drive and the lift system to attain better controllability and low maintenance).

Enhanced environmental friendliness and increased economy.

Provide better operator comfort and controllability (ergonomically designed controls and seating and many devices)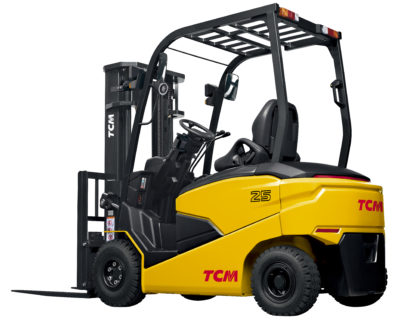 TCM FB-IX electric counter-balance forklift trucks
*Coming soon. Open for orders.
FB-IX with its rigid and water resistant body, provides optimum performance in all material handling scenarios.

Greater controllability, enhanced safety, minimal maintenance requirements, improved environmental cleanliness and operator comfort. 

It brings greater work efficiency and productivity to any logistics operations.
COUNTER BALANCE FB 1.8 Ton - 3.5 Ton
*To be replaced by a newer model
Fully hydraulic orbitrol power steering which reduces overall maintenance costs.
The efficient recovery of breaking, accelerator-off and switchback regeneration (the substantially reduced switchback time and distance will reduce operator fatigue).
New Type of AC Motor (AC motor is used for both the drive and the lift system to attain better controllability and low maintenance).
Enhanced environmental friendliness and increased economy.
Provide better operator comfort and controllability (ergonomically designed controls and seating and many devices)